Gartic.io Answers 2023 Guide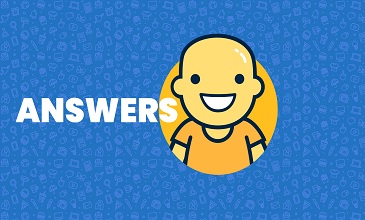 Gartic.io game has many words to guess in the game so you can use Gartic.io answers 2023 list. Gartic.io is a very fun game that is similar to the Pictionary game – the only difference is that Gartic.io is played on a digital canvas while Pictionary is played over the real canvas. Pictionary is always a good way to spend leisure time with friends and family, and enjoy it tremendously. In this article, we are going to list mixed Gartic.io answers 2023.
If you do not have a pen and paper, it is no worry! Now, you can play the Pictionary game on the Gartic.io guessing and drawing game with your friends and family.
Gartic.io Answers: Guessing the Objects Accurately
Gartic.io game is a word io game based on drawing and guessing. You can play games in different languages ​​by choosing many different language options in this game. Here are the rules of the answering in the Gartic.io game:
There is an answer box in the Gartic.io game, in which you are required to insert the answers at your convenience.
You can give out the answer in the answer box as soon as your answer box is activated.
You must also try to guess the object quickly, as all the drawings are timed.
The player can offer as many answers into the answers box as possible before time runs out.
On each answer, the player is given 9 points in the Gartic.io game.
You can use the special Gartic.io answers 2023 list to guess words easily.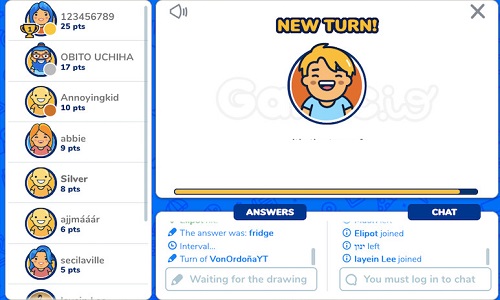 Gartic.io Answers 2023
There are many different categories of words in the Gartic.io game. You can enter specific word rooms according to these categories or play in general word games. Below we have shared with you a list of Gartic.io answers 2023 for public rooms. You can learn all the words in the game with the Gartic.io word list.
wonderland
wrestling
hazelnut
cushion
W-LAN
mayor
community
cow
worm
king
tea
truck
pants
hashtag
DNA
bird
Monster
beer
curtain
tire
nachos
bear
cricket
teapot
nerd
deaf
fruit
meteorite
rice
sniper
sale
gnome
shock
shape
alligator
meal
nickel
party
hurt
Segway
Mr. Bean
banker
cartoon
double
hammock
juggle
pope
leak
room
throne
hoof
radar
wound
luck
swag
panther
flush
Venus
disease
fortune
porch
machine
pilot
copper
mantis
keg
biology
wax
gloss
leech
radish
picnic
Skrillex
jester
preach
armadillo
hyena
librarian
interview
sauna
surgeon
dishrag
manatee
symphony
queue
industry
Atlantis
excavator
canister
model
flight attendant
ghost
pig
key
banana
tomato
axe
line
present
duck
alien
peas
gem
web
grapes
corn
can
fairy
camel
paper
beak
corner
penny
dig
link
donkey
fox
rug
drip
hunter
horn
purse
gumball
pony
musket
flea
kettle
rooster
balcony
seesaw
stork
dinner
greed
bait
duel
trap
heist
origami
skunk
coaster
leather
socket
fireside
cannon
ram
filter
alpaca
Zelda
condiment
server
antelope
emu
chestnut
dalmatian
swarm
sloth
reality
Darwin
torpedo
toucan
pedal
tabletop
frosting
bellow
vortex
bayonet
margarine
orchid
beet
journey
slam
marmalade
employer
stylus
spoiler
repeat
tiramisu
boat
bell
ring
fries
money
chair
door
bee
tail
ball
mouse
rat
window
peace
nut
blush
page
toad
hug
ace
tractor
peach
whisk
hen
day
shy
lawyer
rewind
tripod
trailer
hermit
welder
festival
punk
handle
protest
lens
attic
foil
cuckoo
collapse
eskimo
assault
orangutan
wrapping
albatross
mothball
evaporate
turnip
puffin
reeds
receptionist
impact
dispenser
nutshell
procrastination
architect
programmer
bricklayer
promotion
work
limousine
patriot
badger
studio
athlete
quokka
trend
pinwheel
gravel
fabric
lemur
provoke
rune
display
nail file
embers
grill
read
family
moose
boil
printer
poster
How to Guess the Right Answer in the Gartic.io game?
Here is how you can guess the objects rightly in the Gartic.io game:
In the Gartic.io game, when a player draws an object, all other remaining players must guess the answer to the puzzle very rightly.
There are different rooms that you can choose, and enter the room. Depending upon the category of the Gartic.io game, you can keep in mind words near to the drawn object and try to guess the object in the answer box.
If you have chosen the General room, it is probable that there would be players who draw really badly. You can report them, get rid of the worst players, and include only good players in the game.
There is also the facility of the "Hint". You can try to guess the right answer by completing the alphabet and creating the right word. Hint helps the players greatly in answering correctly.
You can also ask players to draw correctly in the chatbox so that your chances of winning get increased with the enhanced skills of your roommates.
Besides these conventional means, you can also make use of the Gartic.io mods for guessing the right answers. Gartic.io mods such as word helper, guess helper, and faster writer helps you tremendously in finding out the right answer.