Gartic.io is one of the most refreshing and enthusiastic guessing games, which offers its players a lot of fun and enjoyment. Gartic.io game has been developed in such a way that it keeps player interested in the game through its different guessing sessions. The players, who may not know a thing about drawing in real life, tend to draw in the game and learn the art in the most amazing ways due to the excitement and enthrallment.
The Interface Of Gartic.io Game
Your goal in Gartic.io game is to know the words and when it is your turn to tell the players the word correctly and quickly. Following the interface of the game of a PC has been explained:
In the left side of the screen, all the profiles of the players are given.
In the center of the screen, the screen space is purposed for the drawing. Each player draws on his/her turn, which is guessed by other players.
At the lower part of the screen, two tabs lay. In one of them, answers are guessed. The other tab is a chat box, which can only be used by players who have logged into the game.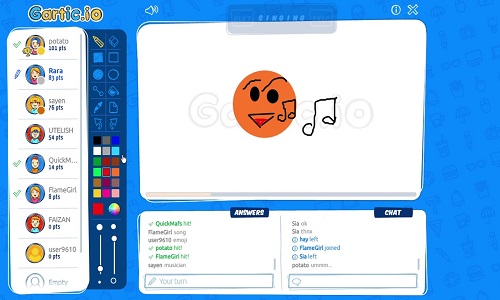 The score is updated on the left side of the screen, wherein the avatars of the gamers appears also.
When the player's turn for playing the game comes, the player is taken to the "drawing mode" wherein he is furnished with colors, brushes and custom colors to draw the shape, figure or cartoon given to him.
If players cheat, other players can bring justice into the game by pressing "triangle" button just beside the drawing screen.
How To Play Garticio Game?
Gartic.io is very easy to play but it is very difficult to be the # 1 in the game so you should learn how to play the game. Following, basic rules for the game are detailed:
Each player has a turn, in which s/he must draw the object and facilitate others to guess the right word given to him or her.
Other players put the answers in the "answers" box, where the right answer is identified by the server and the points are automatically added to the score of the player.
A player can also guess on an object more than once in Gartic.io.
All the players have the facility of the "Hint". In the Hint, two to three first alphabets, middle alphabets or last alphabets are shown. The Hint feature helps players greatly in guessing the right word.
The players can also skip their turn if they do not want to draw.
Players can discuss their confusions in the chat box with other players, and get done with them.
This is how; you play this very interesting game.